Fri 13 Oct 2023: Observational Quiz Where's To?
An observational quiz for participants of Ten Tors
Dartmoor is exciting, full of history and wildlife. Understanding its special qualities will help you navigate and enjoy the open, wild moor.
Keep your eyes peeled during your walks on Dartmoor as well as using books and the internet to discover the answers to this Quiz.
Fill in the answers to the questions and complete a training log.
You can submit your completed quiz either online or by sending a paper copy but either way we hope this quiz enhances your knowledge of this wonderful place.
Good hunting and enjoy Dartmoor.
Lt Col (Retd) A H Clark OBEAdvisor to Director Ten Tors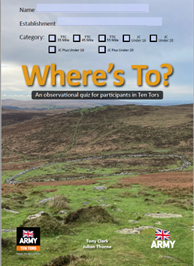 Where's To? 2024 can be found on the Ten Tors website in 'Information', 'Forms & Cards'.
Last updated 13/10/2023
---