Training
The Beacon Training Video can be found here.
Limitations on use of Dartmoor for Ten Tors training
1. Archerton. Stay on the bridleway around Archerton at SX 640 791: do not allow walkers to stray onto private driveways.
2. Tor Royal. The track from Tor Royal SX 600 732 to Bullpark SX603 734 is NOT a public right of way and is not to be used.
3. Water Hill. To give the worn tracks time to recover, the area depicted below is not to be used for Ten Tors training. However, having rested the area, Water Hill will be available for use as a checkpoint for the Challenge.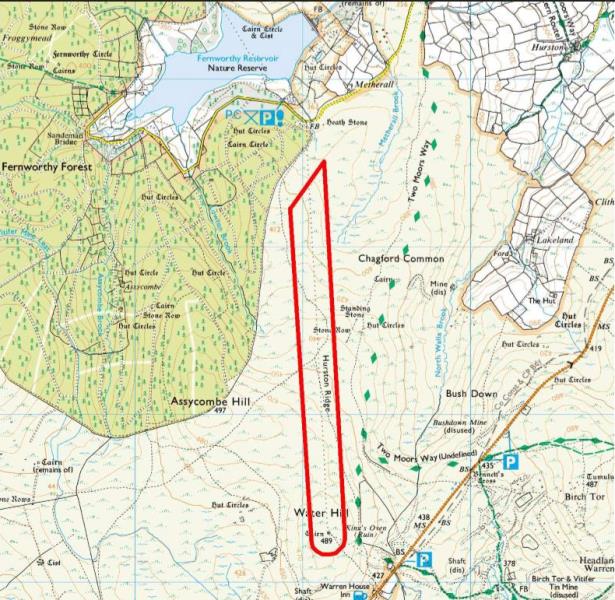 4. Standon Farm and the surrounding area are Out of Bounds whilst training for Ten Tors. The building is located in enclosed land and may be in use for military training at any time and without any warnings being displayed. Walking Groups may use the permissive path between Standon Steps at SX 539 816 south along the River Tavy to the Access Land at SX 541 814. The bridge at SX 538816 across the River Tavy is available for use.
5. Parking. The restriction on parking in a carpark if it is already more than half-full of other Ten Tors-related vehicles, does not apply at Willsworthy carpark as it is owned by the Ministry of Defence.
6. Okehampton Camp Apex. The unfenced open ground to the North of Okehampton Camp Apex Junction centred on St Michael's Bungalow at SX5905 9363 is OOB. Establishments are to take particular care to ensure that walkers do not use the area for loo stops before or after walking.
7. Car Park at Gutter Tor\Scout Hut. The car park at SX 578 672 is seriously pot-holed and several holes are deep and clay-filled, TM's are to be careful if they're planning on parking there.
8. Stannon Track. The track to the north of Higher Merripit SX 652 795, may be used for Ten Tors walking groups by kind permission of the famer. Please repay his kindness by ensuring gates are closed and any litter picked up.
9. Forestry Work. There is a large amount of felling ongoing in Fernworthy, Bellever and other woods. Observe warnings and take care.
10. Stiles and gates. The Dartmoor National Park Authority have replaced and repaired many of the stiles and gates, many with help from Ten Tors donations,. Please do use them and do not climb over walls or fences.
11. Stonetor Hill Gate. This gate, north of Fernworthy SX649 854, has been inserted with funding from the Ministry of Defence, to provide a drier route between Fernworthy and Kes Tor/ Batworthy Corner. Please use this route to avoid the eroded and over used track that skirts the north of the Forest.
12. Loos. The toilets in the Princetown Visitor Centre are only for the use of those viewing the exhibits and 70th Anniversary of the designation of Dartmoor as a National Park. There are public toilets available in the carpark to the right of the Visitor Centre The toilets outside the Postbridge Visitor Centre may be used but do please leave them clean and tidy.