Thu 15 Oct 2020: Message from Lieutenant Colonel Dom Maxwell-Batten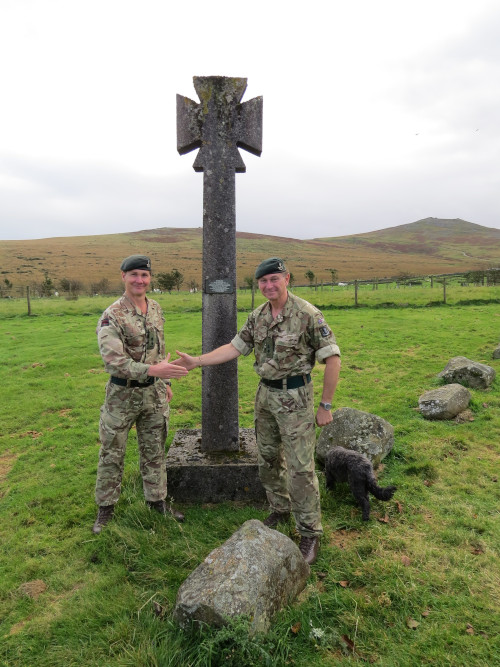 Lieutenant Colonel Crispin d'Apice handing over the role of SO1 Ten Tors (Event Coordinator) to Lieutenant Colonel Dom Maxwell-Batten
A message from Lieutenant Colonel Dom Maxwell-Batten – Event Coordinator
I feel immensely proud and privileged to have been selected for the post of SO1 Ten Tors. Having grown up in Devon, I am acutely aware of how the Ten Tors challenge and the Jubilee Challenge have become a major part of the fabric of outdoor events for not only the Wessex region but far beyond.

I would like to thank Lieutenant Colonel Crispin d'Apice for all his hard work organising Ten Tors for the last 3 years, he has clearly made some improvements which I plan to carry on with. I would also like to take this opportunity in thanking Major Dave Pickering who has been Crispin's right hand man ensuring every detail has been considered during the planning and running of the challenge and I wish them both well in their next military appointments. Crispin goes on to command the 6th Battalion, the RIFLES and Major Dave Pickering goes on to a crucial role with Headquarters South West.

Major Ruth Gilbert has taken on the vital role that Dave filled so diligently and many would have heard her speak on the recent Team Mangers Brief, we are both looking forward to meeting you all in the near future.

Next year's event is likely to be like no other due to the current unprecedented pandemic situation. I assure you, the moment I have any information regarding the event I will let you know.

I'm honoured and humbled to take command of the milestone 60th event.
Last updated 15/10/2020
---